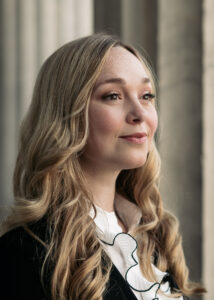 Laura Albert is a full lyric soprano based in Germany. In the 2023/2024 season she will join the ensemble as a soloist at Landestheater Neustrelitz. Her repertoire includes roles such as "La Contessa" in "Le Nozze di Figaro" by Wolfgang Amadeus Mozart, "Agathe" in "Der Freischütz" by Carl Maria von Weber, "Marenka" in "Prodaná nevěsta" by Bedrich Smetana and "Micaëla" in "Carmen" by Georges Bizet.
The young soprano studied voice with Prof. Annette Koch and Susan Anthony in Münster and with Prof. Carola Höhn at University of the Arts Berlin. During her studies Laura Albert has already been singing at Theater an der Niebuhrg Oberhausen, at Chamber Operetta Münster and at Theater Münster, followed by engagements at Ucker Oper GmbH and Berlin State Opera Unter den Linden.
Albert is a scholar of the Richard Wagner Association. She was a finalist at GWK Music Competition Westfalen-Lippe and in 2022 she received 1st Prize in the King's Peak International Music Competition and 1st Prize in the London International Music Competition.
Among her concert activities she performed G. F. Händels "Messiah", W. A. Mozarts Mass in B-Major ("Loretomesse"), Requiem and Coronation Mass ("Krönungsmesse"), Will Todds Mass in Blue, "Helene" in Franz von Suppès "Das Pensionat", "La Contessa" in W. A. Mozarts "Le Nozze di Figaro" and "Schwester Anna" in the German original performance of "Dein ist das Reich" (Swedish: Riket är ditt, English: Thine is the Kingdom) by Jonas Forssell. In 2022 she made her debut as "Marion Richter" in the contemporary production of "Die Arabische Nacht" by Christian Jost at Berlin State Opera Unter den Linden. In 2022 Laura Albert performed her third production of "Le Nozze di Figaro" as "La Contessa Almaviva" at Chamber Opera Munich.
In masterclasses Laura Albert has collaborated with established artists and received musical impulses from Vesselina Kasarova, Raymond Hughes, Jeanine De Bique, John Treleaven, Götz Alsmann and conductor Dan Ettinger. She worked with directors Marcin Lakomicki, Holger Müller-Brandes, Maximilian Berling, Wolfgang Berthold, Bernarda Horres, Benedikt Borrmann and Isabel Hindersin.