English version below.
Laura Albert, geboren in Oberhausen, bekam schon früh Unterricht in Gesang, Schauspiel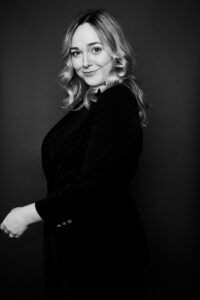 und Tanz und war während ihrer Schulzeit bereits Preisträgerin im Regional-, Landes- und Bundeswettbewerb Jugend Musiziert.
Nach ihrem betriebswirtschaftlichen Studium in Köln studierte die Sopranistin ab 2016 Gesang bei Prof. Annette Koch, darunter ein Semester bei Susan Anthony, in Münster. Während ihres Bachelorstudiums war Laura Albert bereits im Extrachor am Theater Münster und solistisch in der Kammeroperette Münster engagiert, sowie Ensemblemitglied am Theater an der Niebuhrg Oberhausen. Seit 2020 setzt Laura Albert ihr Studium im Master Oper bei Prof. Carola Höhn an der Universität der Künste Berlin fort.
Die junge Künstlerin nahm an Meisterkursen mit Kammersängerin Vesselina Kasarova, John Treleaven, Dan Ettinger und Götz Alsmann teil und erhielt künstlerische Impulse in Zusammenarbeit mit Raymond Hughes, Jeanine De Bique und den RegisseurInnen Holger Müller-Brandes, Wolfgang Berthold, Bernarda Horres und Benedikt Borrmann. Sie erhielt 2021 ein Stipendium des Richard Wagner-Verbands. 
Laura Albert pflegt eine rege Konzertätigkeit im In- und Ausland und solierte bereits u. A. in W. A. Mozarts Loretomesse und Krönungsmesse, G. F. Händels Messias, Will Todds Mass in Blue, als Helene in Franz von Suppès Das Pensionat , als Gräfin Almaviva W. A. Mozarts Le Nozze di Figaro und als Schwester Anna in der deutschen Uraufführung von Dein ist das Reich (Schwedisch: Riket är ditt) von Jonas Forssell.
Ihr Debut an der Staatsoper unter den Linden gab Laura Albert im April 2022 als Marion Richter in C. Josts Die Arabische Nacht und wird im Spätsommer 2022 als Gräfin Almaviva in W. A. Mozarts Die Hochzeit des Figaro in der Kammeroper München zu erleben sein.
***
Laura Albert was born in Oberhausen, Germany and received her first coachings on singing, Jazz & Modern Dance and acting at a very young age. In 2012 she was laureate in the german competition "Jugend Musiziert". 
After her Business Administration studies in Cologne, the young soprano began studying voice with Prof. Annette Koch and Susan Anthony in Münster.
Laura Albert has been a member of the ensemble at Theater an der Niebuhrg Oberhausen and as well part of the extra choir at Theater Münster and worked as soloist at Chamber Operetta Münster during her bachelor studies. Since 2020 she is continuing her Master of Opera with Prof. Carola Höhn at University of the Arts Berlin.
In masterclasses Laura Albert has collaborated with established artists and got musical impulses from Vesselina Kasarova, Raymond Hughes, Janice Chapman, John Treleaven, german chanson- and jazz musician Götz Alsmann and conductor Dan Ettinger and from directors like Holger Müller-Brandes, Wolfgang Berthold and Bernarda Horres. In 2020/2021 she received a scholarship from Richard Wagner Society Münster.
Concert activities guided her across Germany and France. Among these concerts she performed W. A. Mozarts Mass in B-Major ("Loretomesse") and Coronation Mass ("Krönungsmesse"), Will Todds Mass in Blue, "Helene" in Franz von Suppès "Das Pensionat", "La Contessa" in W. A. Mozarts "Le Nozze di Figaro" and "Schwester Anna" in the German original performance of "Dein ist das Reich" (Swedish: Riket är ditt, English: Thine is the Kingdom) by Jonas Forssell.
In april 2022 she gave her debut as "Marion Richter" in the contemporary production of "Die Arabische Nacht" by Christian Jost at Staatsoper unter den Linden Berlin.
In summer 2022 Laura Albert will perform "La Contessa Almaviva" in "Le Nozze di Figaro" at Kammeroper München.